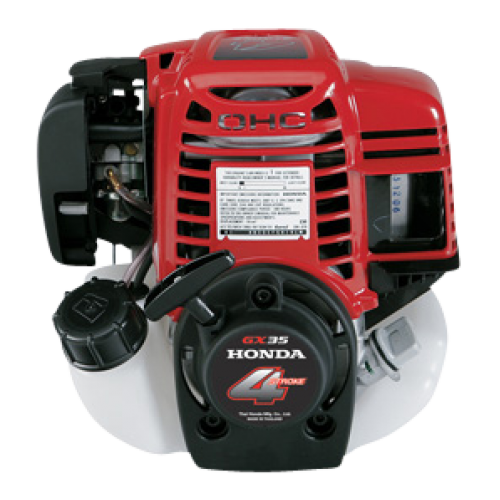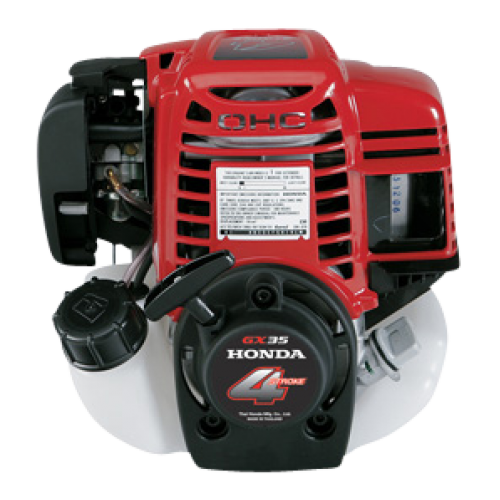 HONDA GX35 ENGINE
412008035
The gutsy, ultra-lightweight GX35 Mini 4-Stroke efficiently delivers the kind of powerful, quiet performance that you'd expect from a larger engine – but in a very compact package.
The GX35 is used by commercial gardeners and groundskeepers throughout New Zealand. It's and engine used to power many lawn & garden equipment. It's also well-known for powering Tillers/Cultivators, Water Pumps, Agricultural Equipment and Construction/Industrial Equipment.
The world's lightest OHC engine, the Honda Mini 4-stroke engine requires no fuel/oil mixing, and runs at approximately half the operating cost of comparable 2-stroke engines.
A full 360° 'any-side-up' operation allows you to use and store the GX35 in any position, taking advantage of the exclusive rotary-slinger lubrication system. The carburetor is equipped with an accelerator pump for fast, easy acceleration, and an efficient port configuration and large diameter valves maximise power output.
An exhaust decompression system and unique low inertia design means the GX35 will start 'first time every time'.
Maintenance is made easy with an accessible spark plug and simple drainage and refilling of oil. High quality materials, fit, and finish ensure that your GX35 Mini 4-Stroke can be relied upon whenever you need it
MODEL GX35TSAU

TYPE 4 Stroke overhead cam, single-cylinder, horizontal shaft

BORE & STROKE 39 x 30mm

DISPLACEMENT 35.8cm3

COMPRESSION RATIO 8.0:1

NET POWER 1.0kW (1.3HP) at 7,000rpm

MAXIMUM NET TORQUE 1.6 Nm (1.2 lbs ft) at 5,500rpm

IGNITION SYSTEM Transistorised magneto ignition

STARTING SYSTEM Recoil Starter

COOLING SYSTEM Forced air

PTO SHAFT ROTATION Counter-clockwise (from P.T.O. side)

FUEL CONSUMPTION AT RATED POWER 0.71 L/h at 7,000rpm

RECOMMENDED FUEL Unleaded

LUBRICATION SYSTEM Oil mist

RECOMMENDED OIL 10W/30 API SG

OIL CAPACITY 100ml

FUEL CAPACITY 0.65litres

DIMENSIONS 198 x 234 x 240mm

WEIGHT 3.33 kg (w/o clutch)