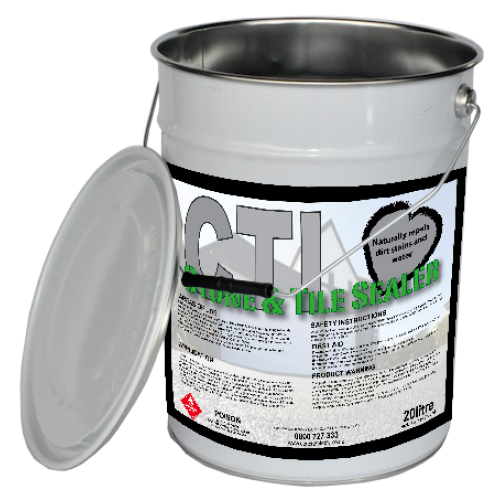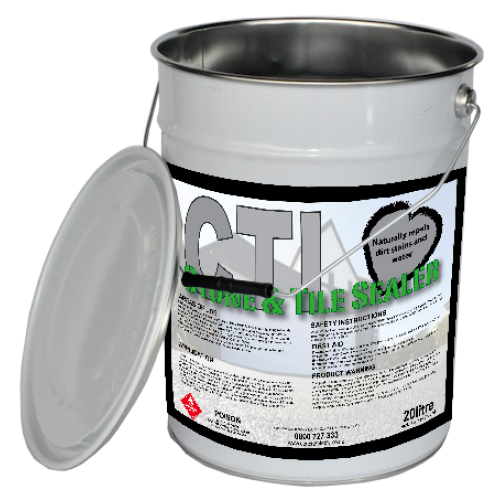 CTI STONE & TILE SEALER 20l
419057145
Stone Sealer is suitable for porous surfaces such as concrete or natural stone, tiles, grout, low porosity stone, unglazed tiles, terracotta, sandstone, Oamaru Stone etc. CTI Stone sealer is ideal for use where control of dirt pickup is brought about by impregnation into the pores of the surface and provides oil and water repellency, stain resistance and easy stain cleanup.
A deep penetrating and light surface protection sealer, giving high resistance to water and oil borne staining.

The natural appearing finish can not be regarded as a film former as its primary function is to block the pore structure therefore minimising the ingression of dirt.
After three days of application stain resistance to water, oil, corn oil, dressing, ketchup, mustard, grape juice, and coffee are excellent.
Stone Sealer is not a waterproofer however it is effective in stopping the passage of water or moisture.
Interior or exterior. Hard wearing.
Branz Tested.
Technical Data : Type - Solvent based fluorinated co-polymer penetrating natural sealer. Dry Time - 20 -35 minutes depending on temperature. Application - Spray for best results or flat lambs wool applicator or use roller carefully. When medium dry - up to 1 hour (@25degree C) apply a second coat if required. Spread rate - 1 -14 sq. m/l per coat depending on porosity of the concrete surface ( Do not allow pooling on the final coat as this can lead to an uneven appearance.) Features - Suitable for concrete tiles, or natural stone surfaces. -Product has a pungent odour for a very short period and has a very fast setup dry time. Clean up - Use CTI Solvent X